In this day and age, having outdoor spaces in venues is vital
Currently, it is still stage 4 restrictions in Melbourne, being in a time of pandemic all hospitality ventures have been forced to take-away only in fear of indoor transmission.
How much of your venue is indoors? Or better yet should we be asking how much of your venue is outdoors?
When government restrictions ease, there is no doubt that there will be an indoor and outdoor patron limit for venues. And the outdoor limit will always be greater than the indoor limit.
Now is the time to upgrade venues for these trying times, to adapt to the current needs of our modern day post-covid world.
Let's look over to Ohio – America, back in May when daily cases declined at a steady rate as a look into the potential future when restrictions ease. The Ohio Restaurant Association announced venues with outdoor areas were allowed to open their doors 6 days before those with only indoor areas.
The 6 day head start could be a game-changer for businesses as it's the first taste of freedom for a lot of customers. Being able to catch up with their friends and family and leaving a lasting impression of your business to them.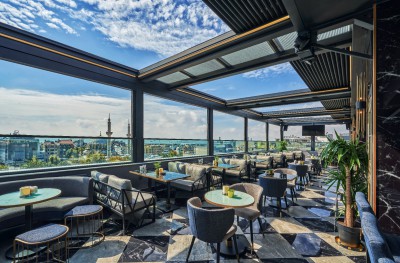 Outdoor dining areas are great social spaces
Spending time with loved ones is important for your mental and emotional health – especially as a busy restaurant owner. When you go to another restaurant as a patron, on a day with nice weather – would you choose to sit outside or inside? Sure does make sense to be outside.
Customers sitting and eating outside are often more relaxed and sociable, especially on a nice warm summer night. Popular examples that already exist are beer gardens in Melbourne.
According to Psychology Today, being in a social atmosphere can boost mental health, cognitive engagement, physical health, lower the risk of dementia and other degenerative mental diseases. In effect leading to a longer and happier life!
Increase Capacity
An underutilized area can often be turned into an outdoor space for patrons, increasing the venue capacity. Few areas that many shops underutilize can be the sidewalk to a back storage area depending on the suitability of access.
Of course, increasing capacity means an increase in potential revenue. Adding decking or patio could increase revenues by 30% The Simons Advisory Group conducted research and found that a $200,000 investment increased overall sales by $500,000 through the increase of capacity in seating.
Vitamin D
Scientifically, it's been stated for us to be outdoors as it's essential to our wellbeing. Vitamin D is the supplement that assists in bone growth, calcium absorption and protects adults against osteoporosis. The Australian Department of Health recommends getting at least 15 minutes of routine exercise outdoors every day to improve mental and physical health as "Vitamin D is essential for bone development in children and skeletal health in adults."
Make the most of your outdoor areas
Leave a lasting impression for your patrons with a great experience, delicious food and wine, and they will be back again and again!
Why not consider getting a retractable roof installed in your venue?